BEMIDJI — Themes of resilience and creativity took center stage at the 23rd Annual Bemidji State Student Success Conference on Wednesday, along with a panel of leaders on Tuesday.
"We are delighted to gather here in person after a hiatus due to the pandemic," President Faith Hensrud said Wednesday during the conference's opening ceremony. "I'm sure you'll see our students doing some of their best work as they inspire us with their creativity and innovation."
The conference theme, "Create, Innovate, Inspire," saw 150 BSU students present 64 posters and 36 oral presentations representing a wide variety of academic programs as well as invitational exhibitions showcasing the fine arts , music and design.
Public participants had the option of viewing the oral presentations via Zoom, and the pre-recorded poster presentations could be viewed using the virtual platform, Gather.
"The Student Success Conference taught me how to conduct deeper, more in-depth research, which I think I can use later in my career," said political science senior Jackson Galstad.
Inspired by recent events, Galstad presented his research on patriotism and how it manifests in Russia versus the United States. He also delved into the difference between patriotism and nationalism, examining how a nation's history can influence the attitudes of its people toward other countries.
Junior psychology major Ashley East has studied classism in hiring processes, specifically how a job applicant's perception of social class can affect their chances of being hired.
East conducted a "Rich Dale, Poor Dale" vignette study where the same man was placed in two different virtual backgrounds, one more "rundown" and the other being a professional looking office. She then compared the survey results which asked about Dale's chances of being hired.
"Diversity, Equity and Inclusion has been a focus of mine and I know it's crucial to the betterment of society," East said during his presentation. "I also know that I can contribute and add research with my personal ideas to this field of study."
Many presenters talked about their future plans to conduct more in-depth research after graduation when time restrictions and 15-minute presentation slots are no more.
Joshua Jones, an environmental studies graduate in 2018, helped senior Kathryn Cichy develop her research on interpreting groundwater resources data for Red Lake, a mentorship opportunity Jones is glad to have as a supervisor. graduate student in environment turned towards the professional world.
"My experiences with the Student Achievement Conference have been great," Jones said. "It really opened my eyes to see – especially in science – that this is the blueprint you follow for most of your career."
Dick Beardsley gave a speech at Wednesday's opening ceremony where he spoke about his experiences as a marathon runner and the importance of resilience.
"Sometimes what we perceive as incredible disappointments in our lives turn out to be incredible blessings," Beardsley said.
Beardsley's words rang true, especially given the past two years of the pandemic, and students weren't the only ones affected.
Co-sponsored by the Student Achievement Conference and BSU Leadership Studies, a leadership panel held Tuesday night at the American Indian Resource Center featured BSU and community leaders.
Panelists discussed a variety of topics, including the challenges of leading in times of change, the skills needed to be an effective leader, and the importance of being compassionate, courageous and connected to the community.
Justin Kaney, panelist and co-founder and owner of Bemidji Brewing, spoke about the personal challenges of the pandemic and how these have informed his leadership in business.
"My family and I had different plans that correlated with 2020, but COVID completely shattered them," Kaney said. "There was a reconciliation or a period where we had funerals for our dreams. It's not that we gave up on them, but we just looked at the opportunities that came our way afterwards.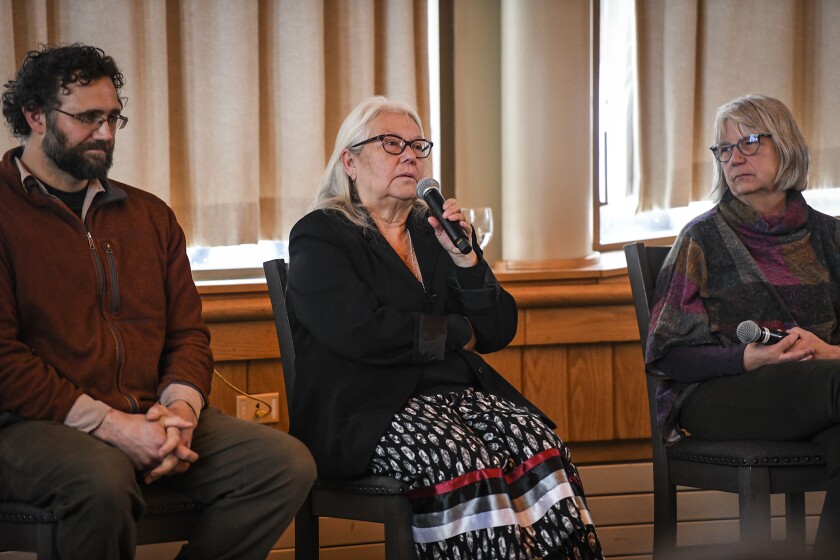 Bemidji Ward 1 panelist and councilor Audrey Thayer credited the pandemic for building her own personal resilience by helping others.
"I work on resilience every day," Thayer said. "For me, resilience is looking from within. That's why COVID has been so good for me because I've been able to take my energy and focus it towards people. As soon as you look within and then focus on the outside, it helps you through times when your energy is not where it should be.
Connecting to the community was also a common theme throughout the discussion, and Steven Parker, campus diversity officer for BSU and NTC, credited connectedness and inclusivity as his motivations for leading.
"Connecting with other people in an inclusive way can remind you of how resilient you are," Parker said. "I will spend hours in meetings loving humans just to build that connectedness. Its important to me. It's my fuel and I hope it heals others.
Panelist Barb Houg, Executive Director of Peacemaker Resources, spoke about the courage it takes to make decisions as a leader.
"Many decisions made every day can make some people happy and others unhappy," Houg said. "It's just the courage to do your best knowing that you're not always going to do the right thing, but you have to take that step forward."
In terms of advice to future generations of leaders and keeping with the theme of the two days of events, Icarus Lott, a student at BSU, offered in conclusion: "Stand up for yourself and stand up you for others. There are so many people who are left speechless and it is our job, moving forward, to bring them into the circle and learn from each other.